Omnichannel commerce, or omnichannel retailing, is an approach to sales across multiple channels or touchpoints. While it sounds similar to multichannel commerce (also known as multichannel retail), they're not quite the same.
Even though multichannel commerce occurs in multiple channels, the customer experience can become siloed within a single channel. This is where an omnichannel model outperforms a single-channel or a multichannel approach.
For more information, check out our post about the value of bundled omnichannel commerce technology.
With omnichannel commerce, the buying process becomes a brand-immersive experience. No barriers. No siloes. The approach aims to create seamless, frictionless, and consistent customer experiences across all sales channels and borders, such as:
Brick-and-mortar locations.
Mobile and web browsing.
Online marketplaces.
Social media outlets.
To use an omnichannel or multichannel approach, your customers should be able to buy your products online and on mobile devices. Be sure to read our post about the benefits of an e-commerce website, where we discuss web and mobile commerce.
E-commerce Trends Support Omnichannel Commerce
With omnichannel, your customers can experience your brand consistently whether they're online shopping or in your brick-and-mortar store. When executed properly, the omnichannel business model can help you increase retail sales.
In collaboration with a major U.S. company, a Harvard Business Review study of over 46,000 customers found that, "of the study participants, only 7 percent were online only shoppers and 20 percent were store-only shoppers. The remaining majority, or 73 percent, used multiple channels during their shopping journey," correctly labeling them "omnichannel customers."
Additionally, the retailer's omnichannel customers were more valuable and loyal, "spending an average of 4 percent more on every occasion in the store and 10 percent more online than single-channel customers," with "23 percent more repeat shopping trips."
In a separate study, BigCommerce found that "U.S. consumers across the board shop across all channels." Particularly revealing were the trends by channel:
Omnichannel Retail or Multichannel Retail?
While both models outperform a single channel model, the omnichannel approach is more advanced. With an omnichannel commerce strategy you don't have to be everywhere—just everywhere your customers are. Omnichannel retailing differs from multichannel retailing in the way you engage your customers.
Multichannel
With multichannel retailing, each sales channel is a separate buying opportunity for shoppers. When they leave one channel, the sales process begins again in another channel. A multichannel commerce approach is a great tool to create brand awareness, but it doesn't offer a seamless customer experience.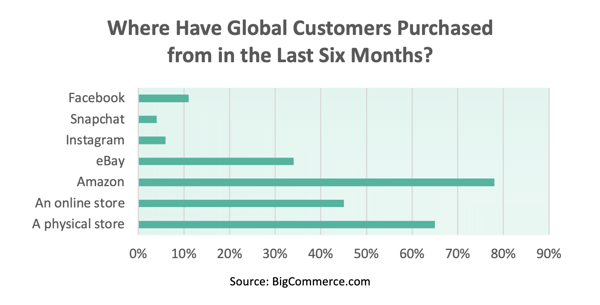 Omnichannel
Omnichannel retailing allows you to engage customers on the channels they use as a single buying opportunity. Even more, the omnichannel approach focuses on improving the customer experience by being in all the places your customer shops. This creates chances for shoppers to complete a purchase across all sales channels.
The goal is to create a unified customer experience that spans the entire customer journey. You can future-proof your business with an omnichannel commerce approach and generate more sales by optimizing your customer's experience. Buying and selling online, in your store, and on social media channels caters to today's customer. Make sure you're meeting them wherever they are.
Subscribe to our blog and have posts like this delivered directly to your inbox!